Etsy Selling - Promote Your Shop with Affiliates
If you buy something through links on Craft Professional, I may earn a referral fee. To learn more see my
disclosure
.
---
Have you heard? There's a new Etsy selling strategy that has a lot of promise.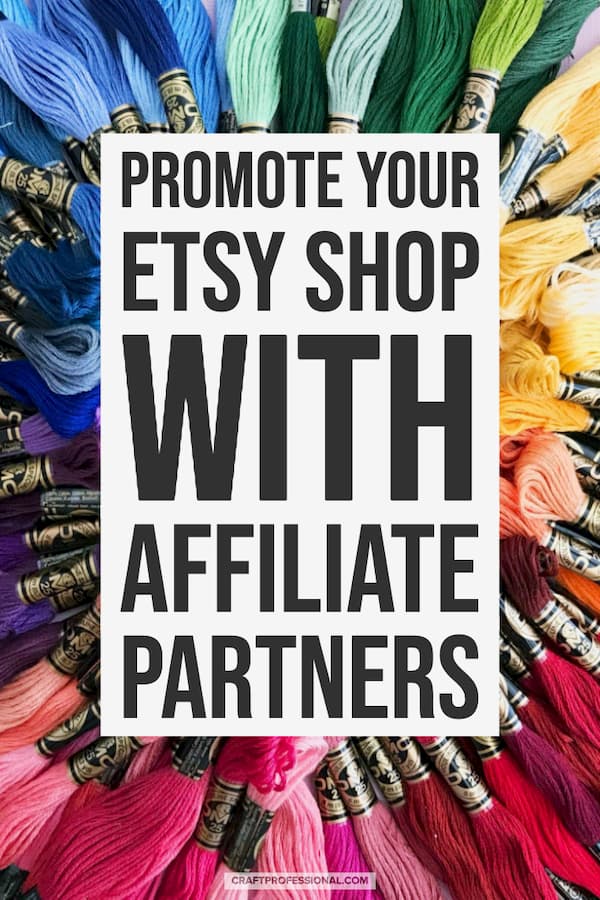 Etsy has recently launched an affiliate program, and, with the right partners, it could provide an excellent opportunity to bring more customers to your Etsy shop.
What is an Affiliate Program?
An affiliate program encourages website owners to refer their readers to another site (Etsy in this case) by paying those website owners when someone they referred makes a purchase.
The Etsy affiliate program pays 5%. That means if an Etsy affiliate sent one of their readers to an Etsy shop, and the reader bought something for $20 at that shop (or at any other shop on Etsy), the affiliate would be paid $1 (5% of $20) for promoting the store and helping to make the sale.
Plenty of companies, large and small, have affiliate programs, and they can be an excellent strategy for growing a business to the next level.

How Will This Program Help Your Etsy Selling Efforts?
Etsy, I assume, is offering this affiliate program as a way to grow their overall business. If you can find the right affiliate partners, you can use the program to increase sales at your own Etsy shop.
The ability to join an affiliate program means website owners in the craft, design, housewares, fashion, and wedding niches (to name a few) will be more interested in featuring Etsy stores on their sites. If a website that gets a reasonable amount of traffic features your Etsy store, you could see a good spike in interest and sales. It can be a real win-win.
It is still early days for the Etsy affiliate program, and there are quite a few limitations on who can become an affiliate. I'm sure that will change as the program matures. The more the program grows, the easier it will be to find Etsy affiliates who write in a niche related to your products and are interested in featuring your shop on their site.
Who Can Become an Etsy Affiliate?
As of this writing (January 2015), the program is new and still quite small. Currently, the affiliate program is not open to American website owners. To clarify, if you live in the U.S. and have an Etsy store, your Etsy store can be promoted by an affiliate. However, if you want to become an Etsy affiliate (someone who promotes Etsy stores, but does not have her own Etsy store) the program is not yet open to you if you live in the U.S. I'm sure this will change over time. If you check the Terms of Use for the affiliate program, you'll find all of the details about who can become an affiliate.

Moving Forward
As I've mentioned, this program is in early stages. There is very little conversation about it on the Etsy forum, I can't find any reference to it on Etsy's blog, and there's not much written about it online. It may take some time before you start to see practical opportunities to use the affiliate program to promote your own Etsy shop, but it is something to be aware of because it looks like a very promising Etsy selling strategy.

I have joined the Etsy affiliate program myself and am brainstorming ways to promote Etsy stores that would be of interest to readers here. I will keep you posted on any new major developments in the program.
Related Articles