Step Up Your Craft Product Photography
by Lisa McGrimmon
What's your biggest challenge when it comes to craft product photography?
For me, the toughest problem to solve has always been effectively setting the scene and styling the photos.
I've taken a photography class, experimented, and read books and plenty of blogs on photography. I haven't learned enough to be a pro photographer, but I certainly know my way around my DSLR camera.
I know how to use aperture priority settings to play with depth of field and get that out-of-focus background. I know how to take in-focus shots of a moving subject. I know about the rule of thirds...
---
I earn a commission for purchases made through links on this page.
---
What I feel has been missing in my craft product photography knowledge is how to style a shot:

How do you set up a shot to really set a mood and tell a story?
What effects do different backdrops have?
What type of backdrop works best with different materials?
How do I use props effectively without taking attention away from the product?
It's all so important to online craft sales. The potential of a great product can be completely lost because of bad photography.
That's why I was excited to find Heidi Adnum's book, The Crafter's Guide to Taking Great Photos. Wow! I wish I'd had this book several years ago. It would have saved me an enormous amount of time and prevented some pretty terrible photos.
HERE'S WHAT THE BOOK COVERS
The Crafter's Guide to Taking Great Photos has a short introductory "Camera Basics" section that covers light, aperture, shutter, exposure, color, focus, and buying a camera. I had already learned those basics in my previous craft product photography research, but I still picked up a few solid tidbits of information here. This section would be quite helpful for anyone who is unfamiliar with using a DRSL camera or for someone who only uses their DSLR camera on manual mode and hasn't explored other settings.

What I really love is the main part of the book that covers how to tell your story and how to handle photographing specific types of crafts. I have never come across so much specific craft photography information set up in such a helpful manner. It is fabulous!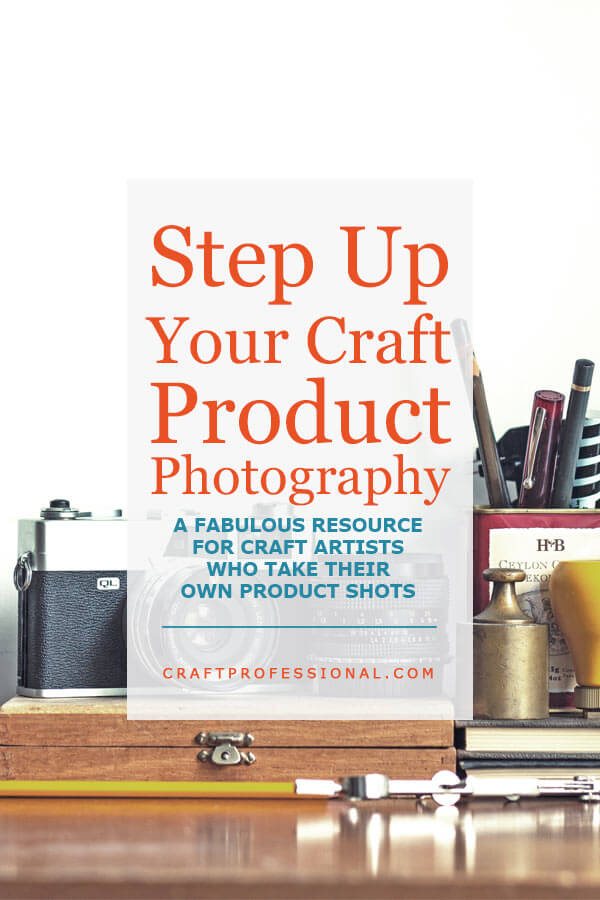 There are chapters on photographing:
fashion and fabrics
bags, purses and accessories
knitting and needlecraft
jewelry
dolls and toys
ceramics and pottery
art
books, magazines and stationery
and home accessories
Each chapter outlines how to plan and set up the shoot, composition, common problems and questions, and a study of a craft artist's product photos. There are beautiful example photos used to illustrate points.
If you want to know:
How to take photos that make your product look more important or dramatic
How to show off the gorgeous texture of your hand knit sweaters
Whether you should photograph your handmade mugs full of tea or empty
Whether your product would look best with a neutral or colored backdrop, or if you should photograph your particular crafts in situ (as they would be used)
Where and when to find the best free lighting for photography
How to DIY photography gear like tripods, light tents, light boxes, reflectors, flash diffusers or seamless backgrounds so you don't have to spend a fortune setting up your studio
How to create a cohesive look across all of your photos so your overall online store looks great
It's all in The Crafter's Guide to Taking Great Photos.
THIS BOOK IS MY NEW FAVORITE PHOTOGRAPHY BOOK
I've spent a lot of time researching craft product photography tips. I have always felt the information I found in classes and online, although helpful, came up short and didn't fully address specific questions I had about photographing crafts. Then I'd end up overwhelmed with the sheer volume of photography tutorials out there.

The Crafter's Guide to Taking Great Photos has exactly what has been missing in my craft photography knowledge:
Advice directed specifically to people taking photos of handmade crafts
Answers to questions that come up when you are photographing crafts for online sales
Tips for styling your photos beyond the standard neutral background (although it also shows you how to use a neutral background effectively)
Information organized all in one place, so there's no need to search through loads of online tutorials.
If you photograph your products, you need to have  The Crafter's Guide to Taking Great Photos. I truly wish I'd had this book years ago. It would have saved me hours of time wasted on research, and it would have saved me from some embarrassingly bad product photos that probably cause me to lose some business opportunities.
While you can find free photography tutorials online, this book presents a huge amount of valuable information, specifically for craft artists, all in one place. It will save you a lot of time searching for answers and help you take photos that really present your work at its very best, which is essential for better online sales and for getting into better craft shows. All of that, in my opinion, is well worth the cost of the book.
Related Articles
You Are Here
Home
➤
Craft Book and Magazine Reviews
➤ Craft Product Photography