Craft Packaging to Boost Profits
Who here has been captivated by great craft packaging?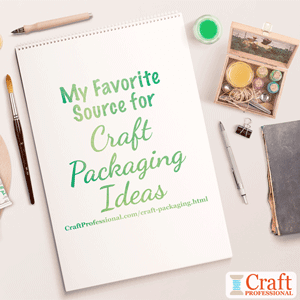 My Favorite Source for Craft Packaging Ideas
You catch yourself bringing a bottle of soap up to the cash because the container it comes in is just completely gorgeous. And you know it costs a little more than the soap that comes in a more mundane bottle, but you just don't care.
I've done that more times than I'd like to admit. I'm pretty sure I'm not alone.
So, why not get the allure of gorgeous packaging working for you when you sell your crafts?
Great craft packaging is well-worth the extra time and expense it takes to create it. It can improve the perceived value of your product, allowing you to sell items for a higher price. Imagine being able to sell the same product you already create, but for more profit. Great packaging can help you do that!
Packaging is important enough that it should be more than just an afterthought. Instead, think of your craft packaging as part of your product.
I used to think it was inefficient to spend much money or time on packaging. My approach was to create the packaging as quickly and as inexpensively as possible. I didn't think of packaging as part of the whole product and production process. Unfortunately, that lack of care showed, and I'm willing to bet I lost sales at shows because of it.
If you build packaging into your production process, you can create a cohesive, whole product with an increased perceived value. I'm certainly not saying you need to break the bank with pricey packaging or spend endless hours on creating your packaging. Remember, the point of putting a little extra effort into the packaging is to increase your profit.
So, consider spending a bit of time and money on your packaging up to the point that it increases your product's perceived value and increases your profit.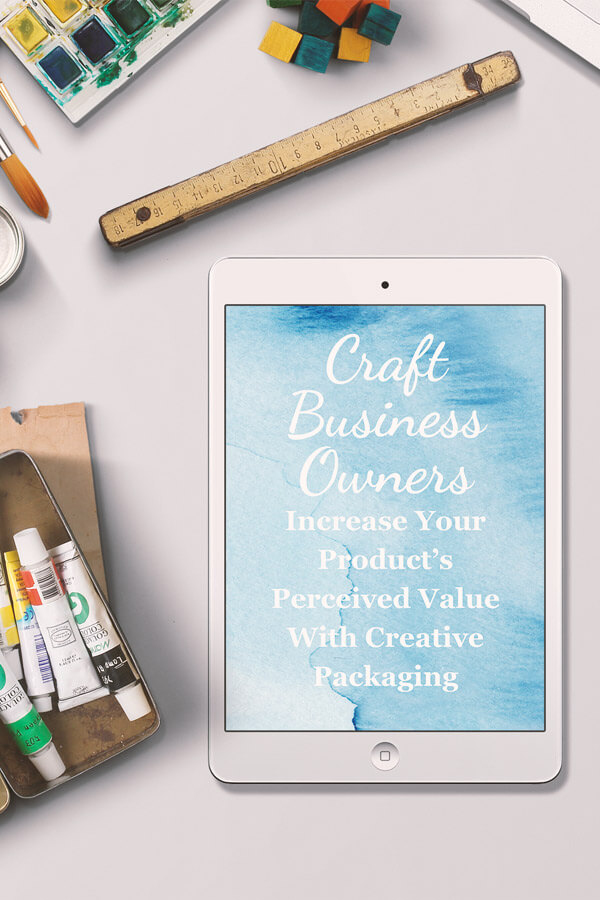 I don't have a precise formula to tell you exactly how much time and / or money you should spend on creating your product's packaging. Do look at the number of items you sell and the profit margin on each item. If you sell a lot of lower priced items with a smaller profit margin, you will likely benefit most from using packaging that is attractive, but fairly inexpensive and quick to put together. On the other hand, if you sell a few higher priced items with a larger profit margin, you can benefit from adding more luxurious packaging that may take a little more money or time to put together.

Also, try to determine how much room you have to increase your price with luxury packaging. Look for products that are similar to your own but already have great packaging and / or a higher-end feel to their overall brand. How much do their items sell for? Do you think you could sell your products for a similar price if you developed a higher end look for your packaging? Some types of products and markets can sustain higher prices than others, so do be sure to do a little research to see what similar products with great packaging are selling for.
So, where do you get ideas for creating this beautiful packaging?
I'm glad you asked!
While researching great craft packaging, I have found a lovely book called Packaging Your Crafts by Viola E. Sutanto. It is full of very attractive handmade packaging ideas that can raise the perceived value of your products.
In my opinion, the ideas in the book are completely achievable by the average crafty person. That is, although they may require you to learn a few basic new skills, for the most part, they don't require advanced skill with techniques you might not be familiar with. Also, most of the ideas can be achieved with reasonably priced materials.
The book has plenty of gorgeous examples, and it is divided into three useful sections:
How to use different types of packaging materials including: paper, plastic, fabric, alternative materials, repurposed and upcycled materials
How to package different types of crafts including: jewelry, ceramics and glass, food and plants, bath and beauty, clothes, shoes and accessories, soft furnishings, paper goods, home and living
Resources
Here are a couple of ideas I love from the book - one that's quick and easy, and one that's a bit more complex.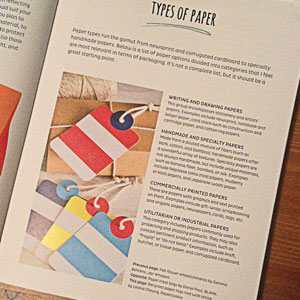 These paper tags are pretty and would be great for dressing up your crafts easily and inexpensively. They look like they'd fit perfectly in a nautical-themed display, but the design could be altered to suit a different look. Although they are simple, there is attention to detail. You can tell they have been thought through. The string brings to mind ropes used on ships, and the round reinforcement stickers add an extra level of detail.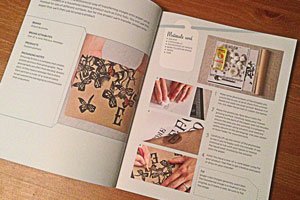 This image transfer technique is more involved. It would take a little practice to master the technique, and creating the packaging would also take more time. However, it adds a very special attention to detail that could be worthwhile for higher-end products with a higher profit margin.

Packaging Your Crafts is a very practical guide to craft packaging, and it includes tutorials, templates and resources for finding supplies you might need. Whatever type of craft you make, you should be able to find a packaging idea in this book that you can use or adapt to increase the value of your product.

You Are Here
Home
➤
Craft Book and Magazine Reviews
➤
Craft Packaging Ideas