Emergency Management Resources for Craft Business Owners
If you buy something through links on Craft Professional, I may earn a referral fee. To learn more see my
disclosure
.
---
For days, I've been watching local and world news. I've barely worked for a few days, in part because I've been busy making sure friends and family are safe, but also because I've been at a total loss of what to write in the midst of this crisis. 

Before we get down to business - Above all else, please make sure you, your loved ones, and your community are safe. Please follow recommendations from trustworthy authorities in your area.

For up-to-date, official information about the global coronavirus pandemic, please visit the WHO website.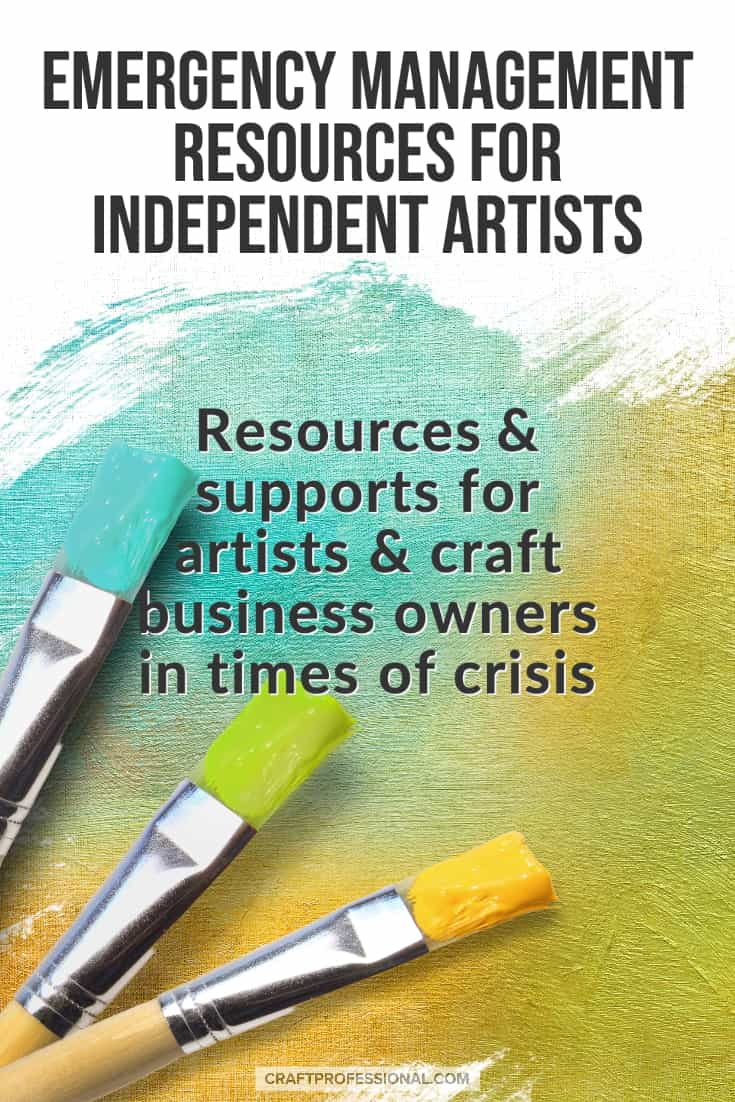 Emergency Management Resources for Independent Artists: Resources & supports for artists & craft business owners in times of crisis
Since the focus of this site is helping creative entrepreneurs build a craft business, let's start there.

I'm certain many of you have worries about how the COVID-19 global emergency will impact your business. It has already impacted my business and the businesses of many of my friends and colleagues.
With the cancellation of craft shows and the impact on the global economy, it will surely hurt the crafts industry specifically and the larger community of artists and small business owners in general.
I can't predict the full impact this crisis will have on craft business owners, artists, and other small business owners. I'm not an expert by any stretch of the imagination - few people are right now.
So, with that in mind, my goals for this page are:

to share information about organizations that are working to support arts communities and small business owners through this crisis
to share craft and business related resources you can access while physical distancing that may help you build your business, develop creative skills, or simply stay busy while at home
Here's what you'll find on this page:
Information about what you can expect from me in the coming weeks
Craft and business-related courses you can access for free to keep learning and keep busy while physically isolating
Links to government COVID-19 response programs for small businesses
Links to resources and organizations that specifically focus on helping artists in times of crisis
Some fun, arts-related events & resources you can enjoy at home to take a mental break from daily stresses
1. What's happening on this site?

I'm grateful to be able to work from home. I'll continue to write new articles over the coming weeks, although I need to take some time to rethink what I'll write because what I planned months ago for April doesn't make sense now.
I have two kids at home while schools here are closed. I'll be spending time with them, so they don't spend the coming weeks glued to computer screens. And I would like to take advantage of some unexpected family time. That means I'll have less time to work, but I'm still hoping to get several things done.
---
I earn a commission for purchases made through links on this page.
To learn more, please see my disclosure.
---
2. Free Online Courses for Craft Business Owners
Plenty of people, myself included, are using this time of physical distancing to take online courses.
Many of us have some unexpected extra time to fill, and some companies are offering their paid courses for free right now. That adds up to an excellent opportunity to develop a new skill or build upon an existing one.
In fact, The World Health Organization has just released recommendations for managing your mental health though the COVID-19 pandemic, and one of their recommendations is, "engaging in activities which give a sense of achievement." An online course might give you that sense of achievement to help you manage through this tough time.
If you have some unexpected extra time, there are plenty of free, online craft-related courses you can take for your business or for fun.
Skillshare Online CLasses
* 2 Months Free for New Accounts *
Skillshare 2 Month Free Trial
If you've never tried Skillshare, you can get access to all of  their courses for free with a 2 month trial.
Skillshare has loads of classes to suit all kinds of interests, and there are plenty that a craft business owner might enjoy.
Here are a few of my favorite Skillshare teachers who teach classes for creative entrepreneurs:
Tabitha Park: Teaches product photography and flat lay photography classes. Don't worry that some of her classes feature photos of food. You can apply the techniques to photographing plenty of other subjects as well.
Peggy Dean: Teaches handlettering, and she has several videos where she shares helpful creative business advice. Check out her classes just to see the spectacular mural in her office / studio.
Stine Wiemann: Has several videos with advice about selling at craft shows.
Kristina Turner: Teaches product photography and image editing techniques you can use to get great looking product shots with clean, white backgrounds. Kristina also shares the efficient workflow she uses to get her photos done quickly.
Of course, there are plenty of courses on Skillshare. Their classes cover a huge range of topics. They are typically quick, informative videos that allow you to pick up the essentials of a new skill efficiently.
Bluprint Creative Care PAckage
* MArch 26, 2020 to April 16, 2020 *
All Bluprint Classes Are FREE Until April 16, 2020
Bluprint's free Creativity Care Package gives you free, unlimited access to all of their courses from March 26, 2020 to April 16, 2020. No credit card is required, but you will need to create a Bluprint account.
Bluprint (formerly Craftsy) has hundreds of great classes. Here are a few of particular interest to craft business owners:
How to become a crafts teacher
How to Teach It with Gwen Bortner: I love this class. The instructor really knows her stuff! If you've ever thought about teaching craft classes in your community, check out this class on Bluprint.
Photography Classes for Creative Entrepreneurs
Product Photography at Home with Jessica Marquez: I've taken this Bluprint class as well. If you want to learn how to improve your product photography, you'll like this class. You don't need all kinds of equipment. As long as you have a DSLR camera, you'll be able to practice the lessons in this class.

More Bluprint photography classes for creative entrepreneurs:

Commercial Photography: Taking Product Photos That Sell with Chris Grey
Shoot It! A Product Photography Primer with Caro Sheridan
Photo Styling with Meredith Staggers
Photography for Bloggers with Lindsay Ostrom
Some beginner Craft Classes that use simple supplies you might already have on hand
Ready Set Draw! with Rocco Staino
Intro to Ink Illustration with Lauren Hom
Journal Writing 101: Transcend the Everyday with Katie Dalebout
That list is just a starting point. There are over 1000 classes, including several different types of crafts, as well as cooking and some wellness classes on Bluprint, which you can access for free until April 16, 2020.
3. Government Support for Small Businesses Impacted by COVID-19
I wanted to make sure readers are aware that governments in many countries have developed, or are developing, economic response programs for individuals and businesses impacted by COVID-19.
Even if you wouldn't normally be eligible for unemployment insurance, if your business has been impacted, you may be eligible for some type of support now. Of course, program details and eligibility requirements will vary by country.
I'm going to share a few links of interest below; however, I urge you to go directly to the source - your appropriate government office - for information about these programs.
I used to work as a career advisor here in Canada. When clients came to me with questions about their unemployment insurance, I'd explain the basics, but I'd also always tell them to talk with someone directly at the government office that runs that program. There are always little details, ins-and-outs, and exceptions that someone who deals with the program every day will understand better than anyone else.
That's why it's important to go straight to the source - your appropriate government office - for this kind of information.
With that in mind, here are a few resources that may be of interest.
United States
USA.gov: American government's website with links to official information about how a variety of government departments are responding to the crisis.
SBA Coronavirus (COVID-19): Small Business Guidance & Loan Resources: US Small Business Administration (SBA) page detailing information for small business owners in the United States who are impacted by the coronavirus.
CARES Act: Here's the text of the US Coronavirus Aid, Relief, and Economic Security Act (CARES Act) designed to support individuals, families, and businesses impacted by the coronavirus pandemic.
Americans for the Arts - COVID-19 Relief Package WEBINAR - MARCH 31, 2020: Americans for the Arts is hosting a free webinar on March 31st, 2020 to discuss the federal COVID-19 Relief Package as it relates to arts organizations and artists.
Canada
Canada's COVID-19 Economic Response Plan: Here's the official Canadian government's website outlining supports available for individuals and businesses. Some business owners who would not normally be eligible for employment insurance may be eligible for economic support through this program.
Canada Emergency Response Benefit (CERB): Details about the CERB - Canada's temporary income support for people who have lost income as a result of the COVID-19 pandemic. This page has information about who can apply, and when and how to apply.
Apply for CERB Through the Canada Revenue Agency (CRA): Here's the page that eligible people can use to apply for the CERB through the CRA starting on April 6, 2020. Your best day to apply will depend on the month in which you were born. More details are available on the website.
United Kingdom
United Kingdom Coronavirus (COVID-19) Self-employment Income Support Scheme: One of my blogger colleagues shared this link in an online community I belong to. He indicated this is where taxpayers in the UK can find information about income support programs for individuals who are self employed.

4. Organizations Supporting Arts Communities and craft business owners
There are some wonderful organizations that work specifically to support artists and artisans though a crisis. And there are other people who are doing a fabulous job of putting together long lists of support resources for craft business owners and visual artists.
Here are a few sites with lots of resources:

CERF+ - The Artist's Safety Net: If anybody knows how to support visual artists and craft business owners through an emergency, it's CERF+.
CERF+ is a nonprofit organization with a mandate to support artists' livelihood. They have plenty of advice about managing a craft business through a crisis on their site. And if you're an American craft business owner, you might qualify for financial help though an emergency relief grant.
You can read their response to COVID-19.
Clearly, they are anticipating a huge need for support. If you are able, you can support other craft business owners and make a donation to their relief fund.
COVID-19 Freelance Artist Resources: This list is spectacular. There are mountains of resources for freelance artists from a variety of disciplines. I can only imagine the commitment it is taking to create and continue to grow this incredible list. The people behind this project are rock stars!
Artist Trust: Another large and growing list of emergency resources. This one is specifically for artists in Washington State.
Americans for the Arts: More emergency resources for artists, including some sources for emergency funding.
Supports for Canadian Artists: A growing list of resources for Canadian artists of all types. There are sources for emergency funding, advocacy groups, and links to access mental health supports.
Crafts Council UK: Here's where the Crafts Council UK is keeping information about how the crafts community in the UK is impacted by the coronavirus, and where craft-related businesses and organizations can find resources and supports.  
More from Crafts Council UK: The Crafts Council is dedicated to advancing crafts and supporting makers in the United Kingdom. The link above takes you to information about all of the work they are doing to support makers and craft businesses in the UK.
5. Creative Fun at home to Take a Break & Escape the Stress
Virtual Museum Tours: Google Art and Culture lets you take virtual tours of thousands of museums and cultural sites around the world from the comfort of your home.
Crafts Magazine Free: Crafts Council UK is offering free access to the digital editions of all of their magazines (50 years worth) for one month starting March 24, 2020. There's plenty of gorgeous inspiration in these magazines for everyone, no matter where you live.
Online Arts Events: Long and growing list of online arts events. You'll find everything from art studio tours, to film festivals, to dance classes, all moved online while we stay at home.
---
Thanks for visiting. Please take care. Be safe. Be kind. We will get through this better together.
SUBSCRIBE TO THE CRAFT BUSINESS NEWSLETTER
Sign up to stay in touch and get all the latest info about running a creative business. Just enter your email address below, and you won't miss a thing.