Email Marketing Basics for Your Craft Business
Building an email marketing mailing list is an overlooked or, at least, under-developed strategy that craft business owners could be using more effectively to increase sales both online and offline.
A newsletter allows you to communicate and reconnect with customers who have a real interest in your business. After all, they have made a choice to sign up for your newsletter, so you know they are interested in hearing from you!
A mailing list of truly interested customers can become a valuable asset of your business, and it is something you can control a lot better than other strategies you may be using to reach out to customers.
These email marketing basics will show you how to get started on building a newsletter and a list of subscribers for your small business.
On This PAge...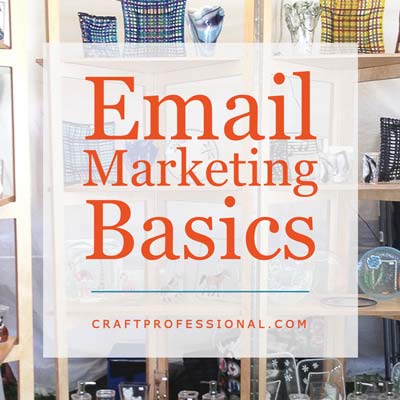 I've covered a lot of email marketing basics on this page, and it's quite long. 
If you want a thorough overview of how and why you should start building your email list, read through the whole article. If, on the other hand, you're in a hurry, simply click one of the links below to jump down to the topic that interests you most.

How a Newsletter Can Boost Your Sales
Getting Feedback and Relationship Building
Why Send Out a Newsletter if You Already Engage on Social Media?
How to Build Your Newsletter Subscriber List
How Often to Publish Your Newsletter
How a Newsletter Can Boost Your Sales
People often need more than one contact with a business before they make a purchase, particularly when they're looking at higher priced items. So, the more you can genuinely connect with potential customers, the more likely they are to become actual customers.

Plus, it's easier to sell a second or third item to someone who is already your customer than it is to find a brand new customer. Therefore, if you have a way to keep in contact with people who have already purchased from you, you will increase your chances of turning your one-time customers into returning customers.
BOOSTING ONLINE SALES
People think about building mailing lists for online businesses all the time. Internet business gurus are big proponents of the mailing list idea (with good reason). When you have a good mailing list, you can direct a large group of people who are well targeted, to new postings on your own website, your Etsy store or any other only sales venue you may use. You can let subscribers know about new products, or sales events, or even provide special offers for newsletter subscribers only.
With a newsletter, you have a lot more control over the process of bringing customers to your online store. Without a newsletter, you've left it up to the whims of Google's or Etsy's algorithms whether your new listings or products get found by a lot of interested customers (yes, you can influence those algorithms, but with a healthy mailing list, you can send potential customers directly to your online store).
BOOSTING OFFLINE SALES
A newsletter is not always the first thing that comes to mind when people think about making offline sales. However, you can boost offline crafts sales (think craft shows, studio tours) with your newsletter. A quick message sent out to your mailing list to let them know you'll be at an upcoming craft show or participating in a studio tour can get more of your customers out to the show and get them excited about seeing your new work.
If the show allows craft artists to offer special promotions, you can offer a discount to newsletter subscribers. You could either provide a printable coupon, or if you wanted to keep it really simple, you could tell your newsletter subscribers to say hi to you at the show and give them a phrase to say to get a discount. Do be aware that in order to preserve the value of handmade work, some shows do not allow promotions of special sale prices, so do check the show's regulations first.
---
Getting Feedback and RElationship Building
One of the most wonderful and valuable surprise benefits I receive from the newsletter I send out for this site is the excellent feedback and relationship building I get from subscribers. Back in 2006, when I started this site and sent out my first newsletter, I really had no way of knowing how important that would be.

Subscribers to my newsletter are truly wonderful. When I asked for feedback about what topics they want to read about, they sent extremely thoughtful and helpful ideas that are still helping me decide what to write about to meet their needs (In fact, I've written this particular article because my newsletter subscribers asked for it.). They also send me very lovely, unsolicited thank you notes, which completely makes my day.
If you develop a mailing list, you have a way to communicate with your most invested, interested customers. You can ask them for feedback on existing products, or find out what types of products they really want to see. You won't have to guess how to grow your business because your customers will tell you if you just send an email and ask.
---
Why Send Out a Newsletter if You Already Engage on Social Media?
You might be thinking you don't need a newsletter because you already engage with customers on social media.

I am a big believer in only doing as much as you can do well. So, if you feel your time allows you to add value to your customers on Facebook, but you just don't have time to commit to a newsletter, then that is a wise decision to make. Whatever you do, do it well. Choose what benefits your business the most and make the best use of your time and then do it to the absolute best of your ability.
However, if you do have time to add a newsletter into the mix, it does provide something that Facebook, Twitter and other third party sites (i.e. sites not owned by you) cannot - control and ownership.
When you build an email list of customers, that list is your own. No one can take that away from you. It is a real asset of your business.
When you build a following on Facebook or Twitter or other social sites, you don't fully own or control that following. If Twitter suddenly changed its rules in a way that was detrimental to your business, or if your Facebook business account was shut down tomorrow (it's been know to happen), you will lose your ability to communicate with all of the customers who were following you on that third party site.
If, on the other hand, you also had a newsletter, and you regularly encouraged your social media followers to sign up to receive your newsletter, you will still be able to contact all of those social media followers who signed up for your newsletter no matter what happens on third party sites. I'm not trying to discourage you from building a following on social sites. I have watched some wonderful businesses launch and grow up on Facebook. But I am suggesting that it's in your best interests to bring as many of your social followers over to a newsletter (that you control) as possible.
---
How to Build Your Newsletter Subscriber List
First, remember that quality is more important than quantity when talking about newsletter subscribers. I would much rather have a list of 3000 people who want to receive messages from me and who open and read my emails, than a list of 6000 people who aren't all that interested in seeing a message from me in their inbox.

So keep it real; you only want people on your list who actually want to hear from you! Plus, if you use a paid newsletter service, you pay more as your newsletter gets bigger, so a smaller, more invested list of subscribers is better for the financial health of your business than a larger, less invested group.
WHERE CAN YOU GET INTERESTED PEOPLE TO SIGN UP?
At craft shows and studio tours you can provide a guest book or newsletter signup sheet and invite people to sign up for your newsletter
If you have a website, provide a signup form online. If you choose to use one of the email newsletter services (see the details below), they will provide you with everything you need to create a form (no fancy technical skills required!).
If you have active social media accounts for your business, invite your Facebook or Twitter followers to sign up for your newsletter. An occasional friendly post or tweet letting people know you're about to send out a new issue of your newsletter can help bring your social media followers over to your newsletter. If you have an active Pinterest account, consider creating an image that promotes your newsletter and pin it for your Pinterest followers to discover.
Ensure anyone who buys from you knows about your email list. Include an insert in your product packaging that invites customers to sign up and includes the signup URL, or print that message directly on your packaging in a place customers are likely to see if that is feasible. 
If your sales are online and you communicate with customers via email, be sure to include your newsletter signup address plus a reason why customers should sign up in a conspicuous place on your emails to customers.
SHOULD I USE A POP UP NEWSLETTER SIGN UP FORM ON MY WEBSITE?
We've all seen those little forms that pop up when you visit a site. They want you to sign up for a newsletter or buy a new and exciting product.
I had a form like that on this site for quite a while.
There are pros and cons to using a popover, so you'll need to think this one through.
For years, I have gone back and forth on whether to use a popover form because I was worried people wouldn't like it, and the last thing I want to do is create a bad user experience on my site. I went without one for a long time, then I tried using one, and it did significanly increase my newsletter sign ups for a while. Eventually, I took the popover down, though.
Popover forms are fairly common on mainstream sites, so people are more used to them, and they can significantly increase your newsletter signup rate.
On the down side, though, some of your visitors will be annoyed by the popover, so you're making a trade off to knowingly annoy some people in order to get more people to sign up for your newsletter.
Also, on the down side, Google has published guidelines on site quality (for their human site reviewers - not available to the general public) which, I've been told, state that supplemental content (a newsletter sign up box would be considered supplemental content) that is not ignorable is a sign of a low quality site. A popover is not ignorable, so it might hurt your site's rankings on Google. I can't say for sure that popovers will hurt, (if only I could look directly into Google's mind!) but it is a possibility to consider.
Adding a popover is a bit of a trade off. You need to monitor how people react - Do people spend less time on your site? Has anyone complained? Have your search engine rankings dropped? Does it have a negative impact on sales? Does it effectively increase signups? You can only answer these questions for your particular online store and your particular audience by testing it to see how your customers respond.
WHAT ABOUT OTHER STRATEGIES?
There are other ways to build your mailing list, but the ones I listed above are all keep-it-real, not too work intensive strategies that can build the backbone of an engaged list of customers.
---
Enticing People to Sign Up
THE ONE-TIME FREE OFFER

A lot of mailing list gurus will tell you to offer something free to entice people to sign up for your newsletter. That could include a coupon or other discount on your products, or perhaps a special report that is of interest to your customers (this option applies more easily to people who sell information as opposed to products, but with some creative thought, you might be able to make it work for your craft business).
The one-time special offer for new mailing list subscribers is easy to set up, and it does tend to increase your signup rate if you offer something that people really want. The downside is that you might end up with people who only sign up because they want your initial offer, but they really aren't interested in receiving your emails on a regular basis.
I personally have never used a one-time offer to encourage newsletter signups on this site simply because plenty of readers sign up for my newsletter every week without the promise of a special freebie, and those who do sign up are engaged (they open my emails, click through to my site when they get an email, and send me messages). So I've decided not to try to fix what isn't broken!
Some people, however, have excellent success by offering a special offer for new subscribers, and it is an importnat strategy that is worth considering.
THE AUTORESPONDER SERIES
An autoresponder series is a series of emails you can set up to automatically be sent in sequence to new subscribers to your email list. You'll need to pay to subscribe to one of the newsletter services (see below) to set this up.
To set up an autoresponder series, think about what type of information your customers would appreciate. You might give readers a little peek into your process showing bits about how you design and create your pieces (don't give away all of your secrets!).
You could provide special tidbits of interesting information and stories about your product. For example, there is an incredible handmade chocolate shop near me. The owner is a real chocolate artist and passionate about his work. When you visit his shop, he always tells stories about how chocolate is made, where is the best place in the world to get cacao and why, how he makes his own vanilla extract, how he experimented for a year to come up with a delicious, low sugar chocolate recipe, why he has a cuckoo clock set to the wrong time in his shop. Hearing his stories is part of the fun of going to his shop, and if he wanted to start a newsletter, he could share stories like that with his subscribers. They are entertaining, but they also subtly educate customers about why his chocolate is better than anyone else's.
In the midst of your interesting stories, you will also include gentle reminders about your products so subscribers become customers. They aren't just being entertained by your stories.
Setting up an autoresponder series takes an investment of time on the front end, but once it is set up, you can leave it. When you create an autoresponder series you have a newsletter that more or less runs itself automatically, and you can always insert a special comment about upcoming shows or sales. Plus, if you give subscribers great information that they want, they get used to receiving, opening and reading emails from you so your messages are less likely to be ignored.
The down side of setting up an autoresponder series is that you'll have to pay for an email service to be able to do it. It is possible to get started with an email service for free, but the free options (as of this writing) don't include autoresponder functionality. So, you'll need to be in a position to really make money with your newsletter to make this option worthwhile for you.
UPDATES ON NEW PRODUCTS, SALES AND SHOWS
You don't have to get fancy with the emails you send. You can simply stick to the email marketing basics and offer your newsletter subscribers updates whenever you launch a new product, provide information about sales which may or may not be exclusive to newsletter subscribers, and share details about shows you will be attending.
Your best customers will be happy to sign up for your newsletter to get that information alone. People who sign up purely to stay informed about your business are the ones who are most interested.
This is the strategy I use, and it has worked well for me. I simply send a quick note to subscribers any time I post a new article. That way they never miss new content on my site.
When I first started my newsletter, however, I used to provide a unique article, not available on my site, for newsletter subscribers only. I truly wanted to provide extra value for my subscribers, but I found writing the newsletter became an onerous task (writing good articles takes time!). Plus, as email marketing evolved, and people's inboxes got more full, I felt it became more important to provide shorter emails that people could read quickly.
Providing updates and occasional special offers is the quickest and simplest way to run your newsletter, plus you should be able to find a service that will allow you to do this for free until your list gets quite big.
THINK ABOUT YOUR CUSTOMERS' NEEDS AND YOUR RESOURCES
To decide which type of newsletter strategy is best for your business, think about what your customers would most appreciate, and also think about the amount of time and possibly money you are able to invest in running your newsletter. You can run a newsletter for a very small investment of time and money, or you can invest more if it makes sense from a business standpoint.
You can always change your mind if what you start out with doesn't work. Just like I stopped including original articles in my newsletters so I could put all of my articles online, you can also make a change. You might decide to start out with quick updates about new products, and later incorporate and autoresponder series if it makes sense once your newsletter is more established and has proven to increase your income.
---
How Often to Publish Your Newsletter
The frequency and timing of your mailings is something you can experiment with. Unfortunately, I can't give you a magic answer. Cookie cutter advice like, send out one newsletter per week on Tuesday morning at 7:00am Eastern Central Time just doesn't work because business goals, as well as the expectations of customers will vary from one company to the next.
You simply need to experiment a bit and watch your statistics to see how readers respond. Do you make more sales when you send out your newsletter on a weekday or a weekend? What time seems to be best? Do a lot of people unsubscribe if you send out your newsletter more frequently? Do fewer people open your newsletter if you send it out less often?
You'll be able to see all of those statistics when you use a newsletter service, and if you watch them over time and experiment, you can develop a feel for the best frequency and timing for your subscribers.
Don't get too overwhelmed by statistics, though. If the idea of tracking all of those numbers is completely overwhelming, don't let it stop you from sending out newsletters. Just use your best judgment based on what you already know about your customers. There's no need to get mired in stats if that's not your thing.
---
How to Publish a Newsletter
Here's how you get started with your newsletter.

There are plenty of services that will allow you to collect names and send out newsletters. I would recommend using a service like this as opposed to just sending emails from your regular email account. These services offer a lot of options that can help you to grow your subscriber list, ensure your messages actually get delivered (not sent to spam folders) and make the job faster and easier for you.
THE SERVICE I USE
Sitesell, the company I use to provide me with all of the tools I need to build my website also provides a basic newsletter service which allows me to grow my list to be quite large at no extra cost. They allow 5000 emails per month, and your balance carries forward each month, so if you only sent out 1000 emails in January, you would have a balance of 9000 emails in February. That nice feature means you accumulate room when your list is small so you can send more when your list becomes larger.
Their email service is fairly basic in that they don't allow you to create an autoresponder series, just straight emails. However, they do provide a lot of instruction in how to set up and grow your newsletter.
SiteSell is not just about email marketing lists (that is just one basic feature among many). SiteSell is a collection of integrated tools, research and guidance for building a complete online business from scratch. So, you don't sign up with Sitesell because you just want to send emails. You use this company if you want to build all aspects of an online business.
I pay $299 per year for my SiteSell subscription (there's also a $29.99 per month option), and it gives me everything I need to run my website.
OTHER SERVICES
I have not used any of these other services I'm going to list below, but I did research them fairly extensively when I was thinking about adding an autoresponder series to my newsletter. At this point, I've decided to stick with the email service SiteSell provides because it is integrated nicely with all other aspects of my site, and my newsletter is large enough that if I used one of these other services, I would have to pay between $30 and $50 per month (which is more than I pay for an entire suite of tools from SiteSell).
However, although these companies aren't right for my needs at the moment, they might be right for your needs, so it's worth checking them out.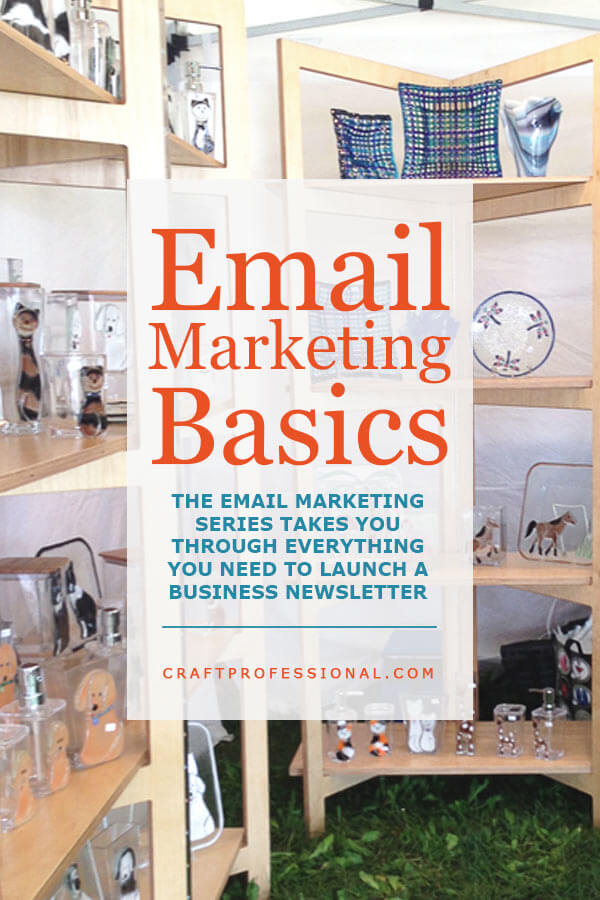 The companies listed below are well known email marketing service providers. All of the links below open in a new window and take you directly to each company's' pricing page so you can quickly see what they offer for different prices and different situations.

MailChimp offers free service if your email list has less than 2000 subscribers, but the free version doesn't give you access to some features like autoresponders.
ConstantContact offers a free trial, but you must pay $15 per month for lists under 500 subscribers (prices go up from there).
AWeber is $19 per month if you have less than 500 subscribers, and prices go up from there.
---
Moving Forward
If you can find the time to implement some of these email marketing basics into your routine, a newsletter can be a simple, effective and inexpensive (possibly even free) way to build your relationship with customers and boost sales. The beauty is, you can keep this facet of your craft business quite simple and not terribly time consuming, and it can still have a real positive impact on your business.

Related Articles
You Are Here
Home
➤
Sell Crafts Online
➤
Email Marketing Basics