Assessing a Craft Show
How to Decide Which Shows to Attend
Not all craft shows are created equal, and, particularly when you're first starting out, it's often not realistic to attend them all.

You'll need to pick and choose the sows that are best for your business.
Once you've found several shows in your area, you'll need some strategies to determine which ones will be worth your time, money, and energy. Here are a few considerations to take into account when choosing which craft fairs to attend.
Booth Fees
Booth fees can be a big expense, particularly since you'll need to pay those fees well in advance of the show.
Look carefully at the entry fee to assess whether a craft show fits within your budget. Determine whether the entry fee is straight commission (the promoter takes a percentage of your sales), a flat fee (you pay a specified amount for your booth space) or a combination of a flat fee and commission (the promoter charges a specified amount and also takes a percentage of your sales).
For flat fee craft shows, determine the average profit you make when you sell an item and then determine how many items you'd need to sell in order to make your booth fee at a given show. Ask yourself whether you feel it is realistic to expect you'll sell at least this much (ideally substantially more) at the show.
Straight commission shows are not as common, but they can be less risky, particularly for those who are just starting out, because there is no initial cash layout. You will need to ensure you've priced your items appropriately to be able to make a profit while losing a percentage of the sale price to commission fees.
Shows that charge a combination of a flat fee and commission are trickier. First, you'll need to determine how many items you'll need to sell just to make your booth fee, then assess how many items you'd need to sell to make what you feel is a reasonable profit once you subtract the commission from your profits.

Additional Expenses
Determine expenses you will encounter beyond your booth fees. If you need to drive a considerable distance to attend the show, take your fuel costs into account. Will you need to stay overnight in a hotel or at a campground? Will you be able to bring your own food or will you need to eat out?
Add up all of these expenses, add them on to your booth fee and account for the cost of materials that go into each item you sell. That's your magic number. That is, that's how much you'll have to make in order to break even at a show. Determine whether you think it's reasonable to expect to sell that much, and more.

Customer Attendance
Determine how many people attended the show in previous years. The organizers of better shows will provide that information for you.
Vendor Attendance
Determine how many vendors will be there, and specifically how many vendors who sell items that are similar to your own will be there. If you work in a fairly competitive medium such as painting or jewelry making, and you attend a show in which the organizers have not limited the number of vendors in each category, you could be up against some pretty stiff competition. I've seen (and, unfortunately, sold at) juried shows that were about 45 percent jewelry, 45 percent painting and 10 percent other items.
Of course, if your items are truly special or you fill a very specific niche, your business will always stand out from the competition, but the more vendors in your category, the more difficult your job becomes.
You can usually check out what craft artists attend a show by checking the show's website. Organizers will typically list the previous year's vendors on their site. This research will give you an idea of the mix of products represented at a show. You may also be able to find those craft artists online and check out their work and their prices. That will give you a general idea of the quality and price range of work represented at a show, and you can then determine if your own work is a good fit with that quality and price point.
Other Benefits to Attending a Show
Of course you want to make a profit, but it's not always all about money. Consider whether attending a show will provide other benefits that will make the experience worth your time. Will you get opportunities to network with other craft artists? Will you gain experience that may help you get accepted into bigger, more competitive shows?
In general, consider whether you feel the show will provide opportunities to learn and develop new ideas, strategies and business contacts strategies to grow your business.
Show Policies
Determine the show's policy on vendors selling items that are not handmade. It can be challenging and frustrating to compete with a neighbor who is selling cheap, mass produced items.
Opinions of Other Craft Artists
Talk to other craft artists. Networking is a powerful business success tool. Ask other professional craft artists about shows in your area. If you're selling at a show, strike up a conversation with the person in the next booth during a slow period. Ask for their opinions about the shows they've done.
Ask about shows on craft forums. For the more well known craft shows, you'll likely be able to find at least a couple of people who are able to tell you about their experiences with a specific show.
Check Out The Show in Person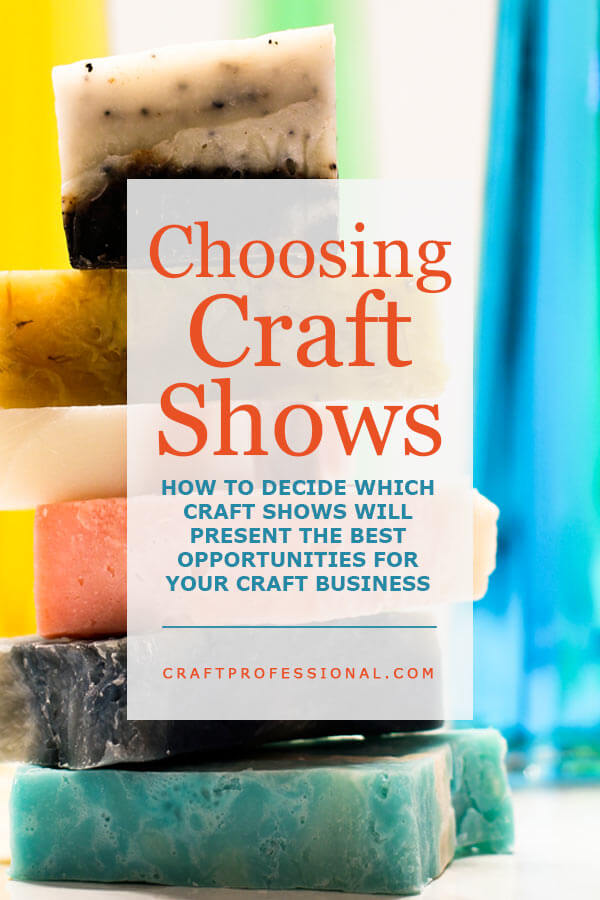 Attend the craft show the year before if at all possible. This does require some advance planning, but it can be well worth your time. You'll get a sense of the crowds at the show, the quality and types of vendors and the quality of organization of the show. You'll also have opportunities to talk with some vendors about the show and you'll be able to assess whether the nature of the show is a good fit for your items.
You'll also be able to determine whether the items at the show are priced within a range that is similar to your own price range and if other vendors' products are of high quality that will reflect well on your own work.
Although you can do some of this research online by checking the show's website as well as the websites of artists who attended the previous year, there's nothing like attending the show yourself as a customer to get a feel for it. Again, it's not always possible because it requires so much advance planning, but if you are just getting started, do make a point of attending as many shows as possible as a customer so you'll have a sense of the quality of shows in your area.
DEtermine the Focus of the Show
Determine whether crafts are the main focus of the show. Are there a lot of other activities going on that could pull customers aways from the craft booths? For example, people who attend a show that is primarily a music festival with a few craft booths along the street will normally be in less of a buying frame of mind than people who attend a show that is primarily a craft show.
Related Articles
You Are Here
Home
➤
Craft Show Ideas
➤ Assessing a Craft Show