Caravan Canopy Review
The Caravan Canopy is the brand of craft tent that I own. It was reasonably priced, has served me well through several shows and is still in great shape.
When I was in the market to buy a craft show canopy, I did a lot of research before investing my money.
I wanted to buy something that was cost effective. That is, I didn't necessarily want to buy the cheapest canopy I could find, but I wanted to find the best value for my money.
One show organizer directed me to a company that sold canopies for many thousands of dollars. Although my business was making a profit, that kind of tent was just way out of my price range and well beyond my needs as well.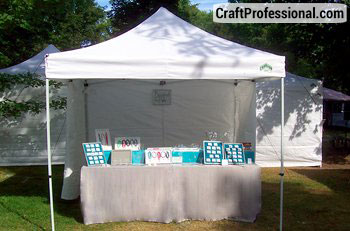 My Caravan Canopy in the midst of setting up for a craft show
However, after hearing about several craft artists who bought the cheapest tent they could find, only to discover they had a tent with moving parts that didn't move, bent legs, leaky roofs etc. I knew I didn't want to go for a very low end canopy.

I finally narrowed down my top choices for tent canopies to either a Caravan Canopy or an EZ Up Tent. Both brands are commonly used at craft shows, and although people do have the occasional issue, both brands have a very good reputation among craft artists who are experienced at selling at craft shows.
I ended up buying a Caravan tent, and I am very happy with it. The majority of craft artists at the shows I attend also have Caravan Instant Canopies and have told me they are quite happy with them. I like my Caravan Canopy because:
It's easy to put up. I can even put it up by myself without any difficulty.
It's a reasonable weight.
It came with a wheeled bag, which makes transportation and storage easy.
It came with four zippered side walls, which give me extra display options and protection from the elements. Also, although I have never left my items overnight at a show, I have left my display tables, which I could not have done without the zippered side walls.
It has stood up to use at several shows without any problems.
I have heard some people mention that they've had issues with the wheeled bags coming apart. I have not had any problems with mine, and I can say I haven't exactly been gentle with it. Do keep that in mind, though, when you're looking at buying a Caravan tent canopy.
Caravan makes a variety of models of tent canopies, so be sure to read the specifications carefully and purchase one that meets your needs.
A few things to look for are:
10x10 canopy size
White color (Some people debate the need to use white canopies at craft shows. I think they look the most professional and show your work off in the best possible light.)
Straight, not splayed legs
Zippered side walls (four if you want to be able to close up the entire tent)
Wheeled carrying bag
Caravan instant canopies are available at Costco, so if you have a membership, you may want to have a look there. You can also buy a Caravan tent canopy online at Amazon.com.
I initially assumed that shipping costs would make it unreasonable to buy my craft show canopy online, but once I took a closer look, I realized that after I factored in the cost of gas to drive an hour to buy my canopy, the shipping costs were completely reasonable.
If you don't live close to a store that sells Caravan Canopies, the gas money and time saved, combined with the convenience of having your canopy delivered to your door can make ordering your Caravan instant canopy online a smart choice.
Caravan Canopies at Amazon
Caravan Canopy 10x10 Displayshade Kit - White Commercial Canopy
Caravan Tent Canopy 10x10 Traveler - White Commercial Canopy
Related Articles
You Are Here
Home
➤
Portable Canopies
➤
Caravan Canopy Review