Each month Inspiri Art and Craft Business Magazine brings you current and in-depth information and resources to help you build and grow your own home craft business.
If you have a friend who would enjoy this newsletter, please feel free to forward it to them.
If someone has forwarded this newsletter to you, you can subscribe here so you won't miss any of the tips in each issue.
For even more tips on building your home craft business, check out the Inspiri Art and Craft website.

In this month's issue of Inspiri Art and Craft Business Magazine:


Inspiri News
This was a busy month with all of the changes to the look of the Inspiri site. You can see the new look for yourself here.

New at Inspiri
Here are this month's newest articles:

Discover Chinese Brush Painting
I started experimenting with Chinese brush painting techniques about a year ago. It is a wonderful and deceptively challenging discipline, and the techniques can be applied to plenty of different media (think hand painted jewelry, handmade cards, etc.) If you'd like to try your hand at learning Chinese brush painting techniques, this article will help you to find resources and get started.

The Art of Resin Jewelry - Book Review
If you want to experiment with making resin jewelry (or using resin in other projects, for that matter) The Art of Resin Jewelry is a great starting point. Resin is a really wonderful, versatile product that you can use to create truly unique designs while avoiding the need to invest in a lot of complex equipment.

New to Inspiri - Book Reviews
There's nothing better than curling up with a cup of tea and a great book or magazine and being inspired by the glorious creations and exciting new techniques to try. These art and craft book reviews and magazine reviews, a brand new feature on the Inspiri site, will help you decide which books and craft magazine subscriptions you'd like to add to your personal library.

Guide to Buying Craft Books Online
The addition of the new book and magazine review section got me thinking about all of the sites I've used for purchasing books online. I buy a lot of my books online and have found that not all online book stores are created equal. Depending on your needs and priorities, one of these stores should have what you're looking for.


---
Feature Article
The Biggest Predictor of Success is...
Attitude. It's that simple.

As a career counselor, I've worked with close to two thousand clients, and when you work with that many people, you start to see patterns in who typically has the most success when it comes to meeting career and business goals.

As I worked with more and more clients, it became clear that in spite of a range of challenges that clients faced, the biggest predictor of success was always the same - attitude. Some people had a mindset that made them willing to follow through and do what was required to meet their goals. These clients had a few things in common:

They had clearly defined and realistic goals.

They eagerly learned everything they needed to know and found the required resources to make their goals a reality.

They did everything related to achieving their goals to the best of their ability.

They didn't make excuses when they knew they faced tasks that were necessary, but difficult.

They sought out support when they needed it.
There may have been tasks that they disliked and challenging moments to overcome, they may have questioned their choices at times, but they committed to doing both the easy and the difficult work. Ultimately, they committed to themselves.
"Your persistence is your measure of faith in yourself."
author unknown
Give yourself a moment to let that idea sink in.
I came across that quote a couple of weeks ago, and it really resonated with me. You could get bogged down in a lot of complex reasons why people don't fully commit to achieving their dreams, why they don't do what they know is necessary to achieve their goals and why they sabotage themselves, but it really comes down to that simple phrase.
It is important to ensure that your goals are realistic and achievable; however, there's a big difference between ensuring your goals are achievable and failing to pursue a goal due to a lack of faith in yourself.
If you really, truly believe that you have the ability to attain your goals, that your dreams are worth the effort it will take to reach them, and that achieving your goals will bring positive changes to your life, then you will persist in pursuing those goals. If, on the other hand, there's a little nagging voice in your mind saying, I'll never succeed, this is a silly idea, my art is not that good, or I don't have the skills to manage a successful business, you'll likely struggle to persist through challenges.
The next time you catch yourself avoiding a difficult task, selling yourself short, procrastinating, or buying into someone else's unfounded negativity, remind yourself of this thought:

Your persistence is your measure of faith in yourself.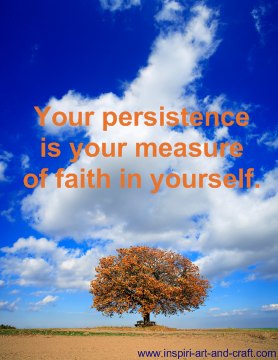 I created this image as a reminder to myself and, since I do a lot of my work on my computer, the image is saved to my desktop. If you'd like to save it to your own desktop for a little bit of inspiration, simply right click on the image, and click on 'set as desktop background' or 'set as background.' If the image looks stretched, check your desktop display properties and ensure you've selected center and not stretch for the position.
---
Online Craft Business Resource
Make Your Price Sell is an excellent, free ebook that is full of great tips for pricing products. If you're struggling with the challenge of pricing your crafts, this book will give you plenty of useful information.


---
Thanks for reading the Inspiri Art and Craft Business Magazine. I welcome your comments and questions.


Best regards,
Lisa
New!

Comments Have your say about what you just read! Leave me a comment in the box below.