What Do You Get When You Put a Career Coach in a Craft Tent?
by Lisa McGrimmon
I began working as a career coach way back in 1999. I had the most wonderful clients, and I loved the job because I really believe that everyone should have every opportunity to learn how to find or create the type of work that truly enhances their lives.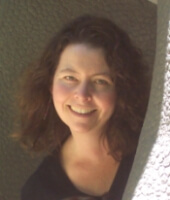 I started out facilitating workshops, which is rewarding and creative work, but as the years passed, and promotions were earned, I found myself in a very non-creative, largely paper-pushing type of job.

By 2006, I really felt the need to bring more creativity into my life. I still enjoyed being a career coach and knew my work brought value to my clients and my community, but my job was missing a creative element that was essential to me.
So I decided to start selling the resin jewelry I had been making.
There Was So Much To LEarn!
I very quickly realized that just knowing how to make jewelry wasn't enough, and if my business was going to be successful, I would need to learn all about the business side of things.

So I invested a lot of time learning everything I could.
I spent hours researching information about selling handmade goods
I completed an intensive, one year course for new entrepreneurs
I worked with some wonderful mentors and networked with professional artists
And, of course, I learned a lot by experience and trial and error
I also committed to sharing everything I learned with others.
The more I learned, the more I realized how much the information I was gathering would benefit others.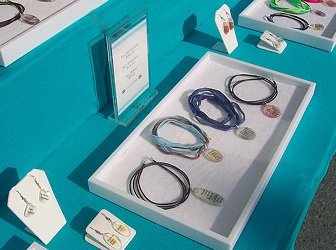 A very early version of my jewelry booth
I'm sure that was (and still is) the career coach in me coming out! I know, from working with a lot of clients, that the work you do has an immense impact on your happiness. I strongly believe that everyone should have access to the information they need to create a fulfilling career or business, and I feel driven to share that information when I can.
I don't work as a career coach anymore; I'm fortunate enough to be able to combine my time between my business and my kids. But for those of you who know that your ideal work involves building a business based on your creative skills, I would feel privileged to share in that journey and be your craft business guide.
SO, WHAT DO YOU GET WHEN YOU PUT A CAREER COach IN A CRAFT TENT?
Setting up my booth
You get a craft business owner who knows a lot about coaching people to help them create their own career and business success and feels compelled to help other craft business owners build a business that brings them joy!

I won't pretend to know everything there is to know about selling handmade goods. I've tried a lot of things: shows, websites, home parties, teaching, consignment arrangements. However, I haven't tried everything, so I'll only write about those things I know about first hand.
As I share everything I have learned (and continue to learn) right here, I hope I'll save you a lot of time searching all over for the information you need, and I hope you'll be able to use that information to make smart decisions and grow your business in a direction that really works for you.
I genuinely hope that by sharing what I know, I will help you to grow a flourishing business that feeds your soul.
If you think you'd like to take your own business online, here's the most important, transformative tool I've used to build a website with plenty of visitors.
Related Articles
What happens when you put a career advisor in a craft tent? You get a craft business writer who has been sharing tips for building a craft business since 2006. Lisa McGrimmon is the founder of CraftProfessional.com. Read more about Lisa here.

You Are Here
Home
➤
What Do You Get When You Put a Career Coach in a Craft Tent?