A White Umbrella for Irregular Craft Booths
Often, a white umbrella is the best option for shade if you have an irregular booth at an outdoor craft show. Here are a few options to consider when you purchase an umbrella for your booth. 
If you are given an irregular booth at an outdoor show, you won't be able to use a standard 10 x 10 canopy, so you'll need to come up with a different shade solution.
Show organizers usually recommend getting a market patio umbrella, and that usually is the best, most flexible and most inexpensive option for shade in an irregular booth.
Ensure the Umbrella is White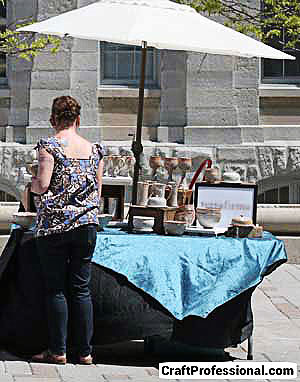 Small outdoor craft booth with a market umbrella for shade.
It is not always easy to find a white umbrella, and you probably won't want to spend a lot of money on a market umbrella if you don't think you'll use it a lot, so it can be tempting to try to make do with a colored umbrella.

Colored umbrellas, just like colored portable canopies, really reflect their color onto your booth. They make it harder for customers to get a true sense of the colors in your work, and they can make it harder for you to show your work at its very best.
Also, if you are not careful, a colored umbrella amid a group of white canopies and white umbrellas can cheapen the look of your booth. It is possible to find inexpensive white market umbrellas. It requires a little more effort, but searching for a nice white umbrella is well worth your time.
Consider How Often You Will Use Your White Market Umbrella
If you know you will have a small, irregular booth at several outdoor shows (maybe you're participating in a weekend market and have been given a 5x10 booth space that you will us a lot), then it is worthwhile, and necessary to invest in a higher end market patio umbrella that will stand up to multiple uses and weather conditions.

Look for a sturdy frame, and a vented canopy to stand up to wind. The vented umbrellas
tend to be a little more expensive, so you might forego that feature if you think you'll only use the umbrella a few times.
Also, an umbrella that tilts will give you more options for shading your booth. If you think you'll only use your white umbrella a few times, and you find a great, inexpensive one that doesn't tilt, you may forego that feature, but if you will be using the umbrella a lot, you'll want a tilt market umbrella so you can adjust the shade as the sun moves throughout the day.

You will also need a stand for your umbrella, and, just like a craft tent, you'll need to ensure your umbrella is weighted.
One place that often sells inexpensive white umbrellas is Ikea. They normally start selling them around April each year and sell them through the summer. Their prices and designs vary from year to year, but you can often get a nice white umbrella for as little as $25.
An inexpensive $25 umbrella from Ikea may not take you through many, many craft shows. However, if you just need some shade for the occasional outdoor craft show with an irregular booth, and you don't want to spend a lot of money, it might be exactly what you need.
You can also find reasonably priced white umbrellas
year-round on Amazon. Be sure to check the diameter of the umbrella before you buy to ensure it will fit in the space you've been given.
Alternatives to a White Umbrella
5x10 Portable Outdoor Shade Canopy
5x10 portable outdoor shade canopies do exist, but they are not easy to find. They are generally more expensive (in the $300+ range) than white market umbrellas. They also offer less flexibility in the type of irregular spaces they will fit into when compared with an umbrella.

A 5x10 portable canopy does have the advantage of giving your booth more importance and presence than you would get from a white market umbrella. It will provide better shade, and it will provide you with more display options than an umbrella.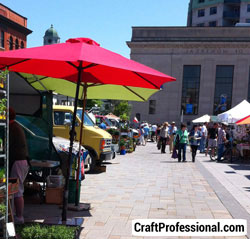 Colored umbrellas can be pretty, but they do cast the color onto your items.
If you know you will be selling very frequently in a 5x10 space (say, at a weekly farmers' market), this type of canopy can be a worthwhile investment in your business. One company that manufactures 5x10 portable canopies is California Palms. Their Queen Palm model is 5x10 and has the option of a white canopy.

To be clear, I have never used a canopy from this company, and I have never talked with anyone who has used a canopy from this company, so I can't say anything about the quality of the tents or the kind of customer service you will receive from the company.
I mention this brand because it is the only company I have found that has a standard 5x10 white portable canopy. (If any readers have used this canopy and can comment on it or have found another brand of 5x10 canopy, and you'd like to share your thoughts, please contact me. I'd love to hear your input!)
Related Articles
You Are Here
Home
➤
Portable Canopies
➤
A White Umbrella for Irregular Craft Booths