Knitting Tips and Inexpensive Yarn for Knitting
If you want to use a different brand of yarn from the one in a knitting or crochet pattern, you should match the yarn weight and the yardage. Look on the label for a symbol that looks like a skein of yarn with a number in it. That indicates the weight of the yarn.

#1 is fingering yarn
#2 is baby weight
#3 is sport weight
#4 is worsted weight and
#5 is bulky weight

You can also find the number of yards on the label.

You want to find a yarn that is the same weight as the one you are trying to replace. Make sure you get the same number of yards the pattern suggests so that you have enough yarn to finish the project. If you choose the wrong weight your product will not look right.
Where to Find Lots of Yarn Cheap!
by Hectanooga
(Canada)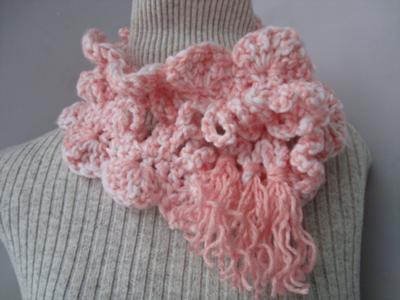 One of the Patterns I Sell on my Etsy Site
I am frugal, and proud of it.

And I am also a designer of knitted and crocheted clothing items.

So, I am always on the lookout for yarn, because for sure, I am going to be working and unworking it while I design a new pattern!

Where and what to look for as yarn?

Recycling is an important gift to the environment!

Look for large afghans and bedspreads at Good Will stores, Salvation Army, etc. (Don't buy the ones that are made of granny squares though!!!! Look for ones that are a continuous pattern, and you will just unravel them at lightning speed, and have sooo much yarn, often in coordinating colors, for a nominal fee such as $5.99 or some other outrageously small price!!!
Turning Heels on Knit Socks
by Carolyn
(Ohio)
The directions for turning heels on knit socks seem completely counter-intuitive when you first look at them. After all, socks are basically a tube you knit whether you start at the toe or at the top of the sock.

All of a sudden, that tube has to make a ninety-degree angle to accommodate the heel of the foot. I'm not sure there is anywhere else in knitting where you have to do this kind of procedure, so on your first sock, the process is going to seem weird.

Frequently when I am knitting I can look at the directions and imagine what the final product is going to look like. K2P2 is obviously going to be a rib, for example. It's helpful being able to do that because once in awhile you run into mistakes in the directions, or you make a mistake and rather than rip out rows of knitting, you use your knowledge of the pattern to make a slight alteration that won't show in the end.

But when I did my first sock, I looked at the pattern and could not envision it at all. So, I decided just to follow the directions exactly as I could. At the end of the turning process, I had a heel and I was able to complete the sock and its mate successfully.

It took me two or three pairs of socks before I caught onto how the procedure worked, but then it became comfortable. I used the same pattern several times so I could get the idea in my head. So, go ahead. Try those socks. They are really fun to make and the nice thing about knitting something small is that it is easy to carry around your work.

This video on turning heels on knit socks will give you some guidance:

How to Find Inexpensive High Quality Yarn
I love to knit. A normal skein of yarn is getting to be very expensive. And who can afford the top of the line yarn?

I learned early on before being green was on anyone's lips, to recycle yarn. I go to a second hand shop or better yet a yard sale or Salvation Army. Turn a critical eye to the sweaters. You'd be amazed at the quality of the yarn.

The sweaters may have some holes or stains, bad pilling in one area. If you can determine you can tear down the sweater, it could be used for any type of baby clothing, a scrap pile, a purse, a vest. You get the picture.

I have made some gorgeous sweaters from different yarns saved after pulling apart bargain sweaters. If the sweater has very fine thread like yarn, it can be used for doilies or to make edging.

My favorite piece was a vest made of cashmere. The yarn came from three extra small woman's sweaters. Finding the yarn is getting to be the best part of the project for me. I feel good that I am reusing a product, giving it a new life. I feel even better when my money is given to the Salvation Army or a Church garage sale.

***cp-return-to-for-easy-craft-ideas.shtml*** Knitting Tips