Crafts That SellCustomers Tell What They Like to Buy at Craft Shows
Are you trying to figure out which crafts will sell the best at your next show?

Here is a collection of posts from readers who share what type of crafts they like to buy.



Uniqueness Counts at Craft Fairs
by Elyse
(NY, NY)
I love going to craft fairs, and not just around the holidays. I have dabbled in various crafts (stained glass, glass fusion, ceramics, etc.) and really enjoy seeing what other people make.
Overall though,
what I actually buy are things that I don't think I (or a family member) could make
. Either things with materials I don't have, things that are just really well-made, or things that are just really creative.
Sometimes going to craft fairs, the booths blend together. I like to see things that are unique, using some material in a way I never would have thought, that would cause people to comment on in my house, or think is a fun gift that they didn't know they wanted. I generally prefer modern things, not "country"-ish looking things with roosters or lace or anything.
I usually buy jewelry as gifts (or for myself) or otherwise some useful decorative object, like a kitchen tool that's useful or fun. I also like buying wall-hangings or sculptural objects that I can put on the wall since I have limited shelf-display space.
Lisa's Note
Here's a common theme that keeps coming up when people are asked what they like to buy at craft shows:
Many people who attend shows dabble in handmade items themselves. It makes sense - these are the people who are more likely to appreciate the value of something that is beautifully handmade. However, it also means that you need to require yourself to make items that the average hobby crafter doesn't make.
That may mean making something that requires a high level of skill, or a combination of a couple of different skills, producing something that uses equipment that most people do not have, or using your materials or applying your techniques in a unique and thoughtful way.
Crafts I Buy
by Amanda
(Virginia)
I have a tendency to buy jewelry, I mostly look to buy items that are beyond my level of skill, I would NEVER buy a simple string of beads because I figure I could make it myself, but pieces utilizing wire bending or homemade beads would be appealing.

I also love items made with real silver or gold and high quality beads, semi-precious stones like hematite or malachite. Also be prepared to answer questions about your pieces regarding the supplies used to make them.

Another nice touch is when the items are 'custom made'. I once paid quite a lot and ordered a set of silver and malachite jewelry because it was made to fit me, I have rather small hands so a bracelet made to my measurements really sold me. I imagine women with larger hands/wrists would also find this appealing.

Lisa's Note
There it is again!
Amanda said she likes items that are made from good quality materials, and require skill to make. These comment keeps coming back over and over! Take note. :)
Here's What I Like to Buy
by Marylou - Earthmaid Ceramic and Mosaic Artist
(South Africa)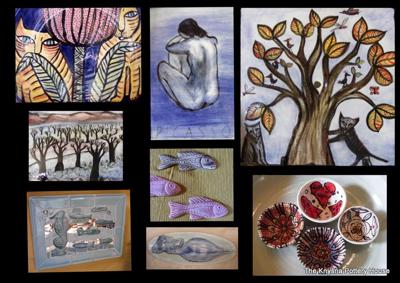 I am a ceramic artist. I have sold my wares at various craft fairs etc., and I blog about how to make mosaics. So I have a discerning eye, and only buy something if it is priced fairly. Also, it helps if I couldn't make it myself.

I look for original, beautiful, quirky, functional items that will last a long time. If you live in a tourist oriented village like I do, then the crafts that sell are items that are small so that they can easily fit in the luggage, and the crafter should be prepared to wrap the items in bubble wrap for the customer too.

Items should be signed and dated, as this makes the souvenir much more interesting and valuable later. If you don't sign or mark your product personally, then people may assume it is mass produced.

***cp-return-to-for-best-selling-crafts.shtml*** Crafts That Sell