4 Booth Designs and Layout
Here are illustrations of four common craft booth designs / layouts, as well as a discussion of some of the strengths and weaknesses of each booth style to help you plan your own effective display.
A great display can play a big role in your craft show success. These layouts will help you decide which configuration is best for you.
U-shaped Craft Booth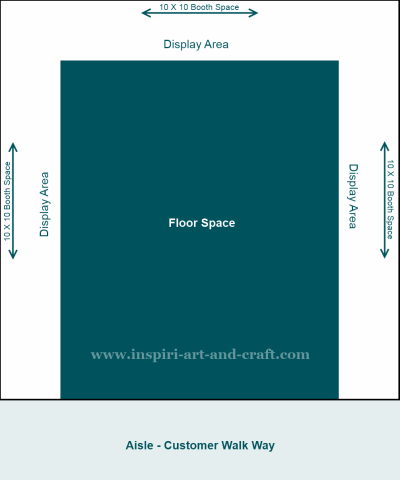 In a U-shaped booth, you will arrange your items along the back wall and along two side walls of your space leaving the front open so customers can walk into the space.
This style provides a lot of display space for your items.
A U-shaped booth allows you to interact with customers, and your items and your customers will be sheltered from the elements when you use this layout at outdoor shows.
It is important to be very careful to ensure your U-shaped booth does not become too crowded, using three of your walls for display can make for a crowded booth, particularly if you display your items on tables.
This layout is typically better suited to using slatwall or gridwall panels or narrow shelves as a display surface. If you use fairly standard-width 30 inch tables in a 10x10 U-shaped booth, your tables will take up 5 feet of the width of your booth, leaving only 5 feet of space for customers, which is not a lot of space.
If your items are large and cannot be safely displayed on a narrow surface, this style may not be the best option for you.
Items can become lost and not easy to see all the way at the back of your booth. Be sure to put some of your most enticing items at the outer edges of your display to draw customers further into your booth. If your items are small (like jewelry) consider using extra large photos of your work hung where they are easily seen to draw people in to your booth.
L-shaped Craft Booth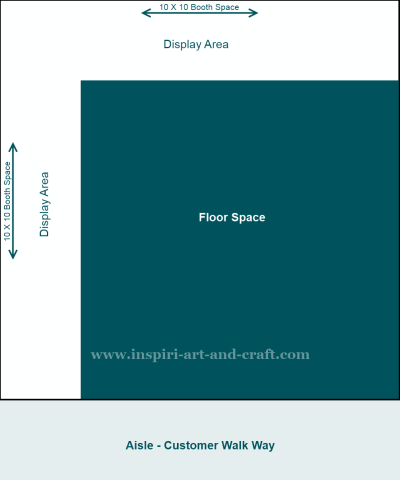 An L-shaped booth design involves displaying your items along the back wall and one side wall of your space. The front and one side wall are left clear.
Many of the considerations that apply to U-shaped booth designs also apply to L-shaped configurations. The L-shaped setup provides a good amount of display space for your items, but you need to ensure items don't become lost along the back wall. This layout allows you to interact freely with customers, and it provides your items and your customers with shelter from the elements.
Crowding is less of an issue with an L-shaped configuration, and you may choose to use tables and/or slatwall or gridwall panels or narrow shelves for your display surface.
Even with an L-shaped booth, you'll want to be sure to use the most narrow tables or shelves you can that will allow you to safely display your items while providing plenty of room for customers in your booth. I had difficulty finding tables that were narrow enough for my own booth, so I custom made them to be narrower and taller than standard tables.
Front Counter Craft Booth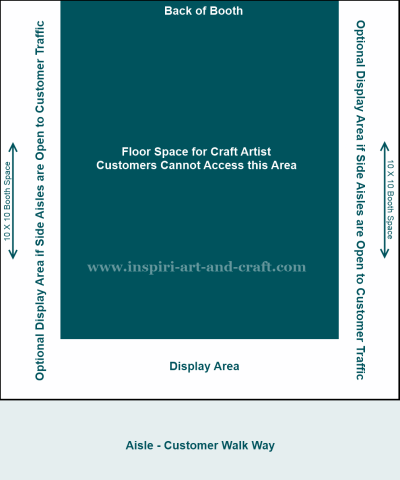 A front counter configuration has your display surface (normally a table) along the front of your display area. You would stand behind the table, while customers stood in front of the table.
In addition to having a table across the front of your booth, you may also place tables along both sides of your booth if the sides are open to an aisle and not butted up against your neighbor's space.
Ideally items should be displayed at counter height (36 inches) or slightly higher. Standard tables are 30 inches high, and should, therefore, be raised a few inches (shims in the legs if they are hollow or PVC tubes over the legs can be used to raise table height). This tip applies to all layouts, but it is particularly important for this style.
A front counter style will provide you with a lot of space for storing additional items not on display and any tools and supplies you require.
Be careful with this booth style. It can really act as a barrier between you and your customer and can limit the type of interactions that can help you to make sales.
Island Craft Booth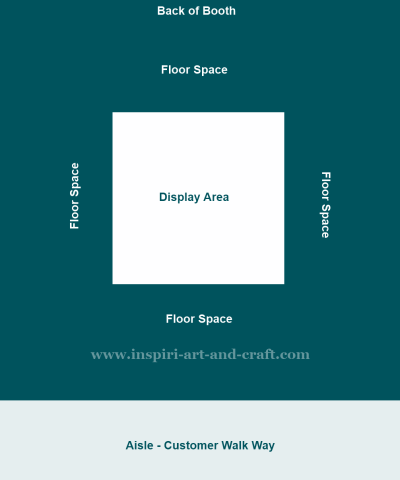 An island booth sits in the middle of your display area with all four outside walls open.
You may set up this layout so customers flow around all four sides of the island.
Alternatively, you may leave the front and two sides open to customers, while you stand behind the island. This setup is related to the front counter setup, but because the counter space is more open and set back in your space, it allows for more customer interaction and pulls customers into your space and off the aisles.
One common use of this booth design is by exhibitors selling homemade jams, jellies and sauces. It allows a large number of customers to get close to and sample items while providing good flow of traffic around the booth.
This layout does not provide a lot of display space, but it does allow customers to get close to your items and pulls them in to your space.
If you want customers to comfortably move around all sides of an island layout, you'll likely need more than the standard 10x10 space. If customers are only using the front and side areas while you stand behind the island, this configuration can work in a 10x10 space.
You Are Here
You are here:
Home
➤
Display Booth
➤
4 Booth Designs and Layout