Baby Blanket Pattern
Here is a baby blanket pattern for the crib blanket I made for my son's room. The baby blanket was quite inexpensive to make compared with other nursery bedding sets I had looked at.
The top is made from Creatures and Critters fabric by Amy Schimler for Robert Kaufman, and the bottom is chocolate minky dot fabric.
I wanted a decorative edge around the outside edges of the blanket, but since I sew everything by hand, I didn't want to use traditional binding, which I thought would add a lot of extra stitching and make the project too time consuming. I couldn't find a baby blanket pattern online to suit my needs, so I just worked it out for myself. My solution is below.
A Few Things to Keep in Mind...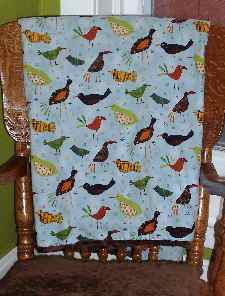 My son's baby blanket
Remember to follow the care instructions for the type of fabric you choose (for example, minky fabric should not be ironed). Check with the fabric store where you purchase your fabric for detailed fabric care instructions.

Please be aware that this baby blanket pattern results in a blanket with an edge that is soft and not perfectly sharp, simply because the nature of the minky fabric (soft, thick, stretchy and not able to be ironed) does not really allow for a really sharp edge.

Also, please keep in mind, I am not a seamstress or professional pattern maker by any stretch of the imagination. When I sew something, I don't follow instructions, I just don't have the patience for sewing patterns. My normal strategy for sewing items is to think through what I'd need to do to create my item and then just kind of improvise. That means the techniques I use may not be the standard techniques a person who was trained in proper sewing techniques would use.

This isn't the easiest way to sew a baby blanket. It's the strategy I used to get a soft, decorative edge while sewing by hand and minimizing the number of stitches necessary. If this is your first time sewing a baby blanket, I'd suggest using the easier baby blanket method described below.

Finally, I like to sew things by hand. It's not nearly as fast as using a sewing machine, but I find it a lot more relaxing. So, while you could definitely adapt this baby blanket pattern to sew this blanket on your sewing machine, these instructions are written based on having sewn the blanket by hand.
Baby Blanket Pattern for a blanket that is approximately 36x45
* note 36x45 is a bit large for a crib blanket, but I wanted to make a generous sized blanket. You can always adjust the measurements of this baby blanket pattern to make a smaller blanket if you like.
Step 4
Step One:

Gather your supplies. You'll need:

About 1 yard fabric of choice for the blanket top (I used Creatures and Critters fabric by Amy Schimler for Robert Kaufman)
About 1 yard minky fabric (I used chocolate minky dot fabric that was 60 inches wide - the dots proved to be very helpful guides for keeping edges and seams straight)
Thread to match the minky fabric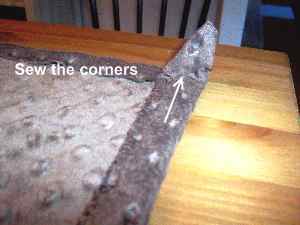 Step 4
Step Two:
Wash and dry your fabric to pre-shrink it (again, check with your fabric shop for any special care instructions for the fabric you choose to use).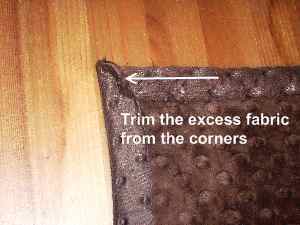 Step 4
Pre-shrinking is important if you are making a baby blanket. Life is busy enough with a new baby, the last thing a new parent needs is a crib blanket that has special washing requirements.
Step Three:
Measure and cut the minky fabric in a rectangle 38 by 47 inches (I added one inch to the finished size all around for trim and seam allowances).
Step Four:
Miter the corners: Lay the minky fabric on a table with the right side facing up. Make a one inch fold along each edge of the fabric (toward the center). Pin the edges to keep in place. Sew each corner to miter. Trim excess fabric from each corner.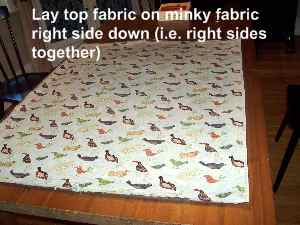 Step 6
Step Five:
Measure the minky fabric. At this point it should measure approximately 36 by 45. Cut your top fabric to the same dimensions of the minky fabric (again, probably 36 by 45).
Step Six:
Lay the top fabric on the minky fabric right side down (right sides of minky and top fabric will be together).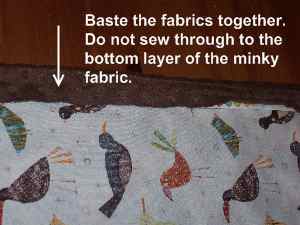 Step 6
Baste edges of minky fabric and top fabric together. DO NOT sew through to the bottom layer of the minky fabric. Sew around all four edges; leave an 8 inch opening to turn the fabrics right side out.
Step Seven:
Turn fabric right sides out. You will have approximately a half inch border of minky fabric around the top side of the blanket.
Sew all around the blanket. This time, you should be sewing through the top fabric and all the way through to the bottom layer of the minky fabric. Your stitch should be just at the edge of your top fabric. Be sure to sew through both layers of fabric, and be sure to keep the width of the minky border consistent, which can be a bit of a challenge since the minky fabric is stretchy.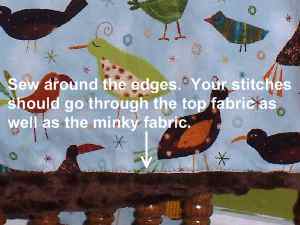 Step 7
Step Eight:
When you get to the space that you left open to turn the fabric, you'll need to fold in the edges of the fabric so the raw edges of the fabric are not visible. Also, be sure to fold the minky fabric so it forms a border that matches with the rest of the minky border.
Finally, if you have any loose threads of wide stitches showing form the basting you did in step 6, you can pull them out. For the most part, you basting should be hidden inside the layers of the blanket at this point.
That's it! You'll now have your own unique baby blanket.
When you make your own baby blanket, your fabric choices are much wider (and in my opinion)) much nicer than your choices of pre-made baby blankets, and this project is fairly inexpensive.
If you want a unique baby blanket, and you're not finding anything you like in stores, it can be well worth the bit of effort it takes to make your own, handmade, unique baby blanket from this simple baby blanket pattern.
Baby Blanket Pattern Update
A reader contacted me to ask for a few clarifications about the baby blanket pattern and instructions on this page. I have included a summary of her questions and my response below in case other readers have similar questions.
The reader mentioned she was a beginner sewer and was a bit confused about the basting section of the baby blanket pattern instructions. She asked:

About basting in general
Whether she should tuck the top layer fabric in the 1 inch minky border because it kind of looks like that on the picture.
Where to put the basting stitch - At which edge or in the middle?
Following is my response:
Thanks for your email. I loved making that blanket and received so many compliments on it when I took my son out in his stroller all snuggled up in his blanket. I reviewed the page you were asking about (it's been almost three years since I wrote it and since I made that blanket). I hope this information helps.
On step six, where I said to baste the minky fabric and the top fabric together, what I meant was to sew it together using large stitches. The reason why I basted them was to hold the whole thing together once I turned everything right side out (I didn't recommend pinning it together because the pins would have ended up inside, so the basting to hold it together made more sense to me.
Try to keep your basting stitches to the inside edge (it can be a bit tricky because the minky is stretchy). If you do find that any of your basting stitches are showing once you have turned the blanket right side out, you can pull them out after you have completely finished sewing up the blanket (just cut the thread from the basting stitch that is showing and pull gently, the fabric will gather, and you can then snip off the thread near the fabric then pull the fabric out straight).
I will mention, as I noted in the original article, I worked this baby blanket pattern out on my own, so it is probably not be a completely conventional way of doing things. Also it is not the most simple way to make this type of baby blanket. I wanted to work out a way to end up with minky trim around the edges of the top fabric without doing an enormous amount of sewing, which is why I made it this way.
If you don't care whether your top fabric is trimmed with the minky fabric, here is a much more simple way to make this type of baby blanket. This baby blanket pattern is what I'd suggest if you are a beginning sewer. It's a lot less complex than the pattern above, and the result is very close (minus the minky trim around the edges).
Cut two pieces of fabric to the same size (about 2 inches longer and wider than you want the finished blanket to be).

Lay the pieces of fabric out together on a table (or on the floor if you don't have a table that's big enough) with right sides facing.

Pin the pieces of fabric together all around the four edges.

Sew around all four sides of the fabric leaving about a one inch seam all around.

Leave about an 8 inch opening on one edge.

Remove the pins.

Trim the seam at the corners a bit so you can get a good, sharp corner when you turn the blanket right side out. Be careful not to cut too close to your stitches.

Reach inside the opening you left, and turn the fabric right side out. (The right sides should be on the outside now). You may have to work at the corners a bit to get them fully turned, pushing gently with an unsharpened pencil can help to get the corners fully turned.

Close the 8 inch opening you left. You will need to fold the seam allowance so it is on the inside of the pouch created by the two pieces of fabric, and carefully stitch up the opening so the seam allowance remains on the inside. It can take a little bit of practice and patience to do this neatly; I have suggested an 8 inch opening - do not make the opening any bigger than necessary to turn the fabric right side out, because the bigger the opening is, the more stitching you'll have to do at this stage.

Keep in mind when you are choosing fabric, if you choose something with a bit of a subtle pattern (like the raised dots on the minky), that pattern can act as a guide to help you keep your seams straight. If you choose something with a very distinct pattern (like bright stripes), that type of pattern can be very unforgiving in that it will be very obvious if your seams are not perfectly straight.
I hope that helps. Best of luck with whichever baby blanket pattern you choose for your project.
You are here:
Home

Easy Craft Ideas

Baby Blanket Pattern
Like This Site? Please Share It.